Five Reasons To Invest in a Stylish & Secure Lash Case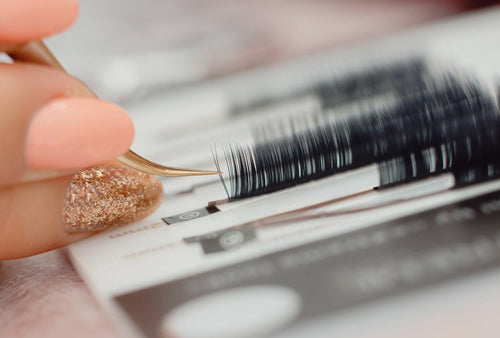 Plastic sandwich baggies, sauce-stained food containers, and rinsed-out condiment cups. If these are a few of your favorite lash-storage things, it's time to level up your game. Your false eyelashes will only last if you take care of them, and we can definitely recommend better options than these for lash storage.
As you build your lash wardrobe, you'll need a place to put them, and a lash case is the perfect solution. We'll explain the risks of not storing them properly, give you five reasons why you need to use a protective case, and recommend a case that will literally change your (lash) life. 
False Lash Care 101
You invested in false lashes because you wanted to get the look of salon lashes without the extreme cost or time commitment. That's why taking care of your lashes is important, so they'll last a long time, keep their shape, and always be available when you need them. 
False lashes don't require a lot of special attention, but there are a few ways you can care for them so they'll last as long as possible. 
Don't Use Mascara
Most false lashes are not designed to be weighed down with mascara. Using mascara on your false eyelashes can damage them, and they aren't made to have mascara applied and removed and still keep their integrity. 
Although you probably won't think you need mascara when wearing false eyelashes, some people prefer to add it. At Lashify, we never recommend wearing mascara with our Gossamer® lashes.
Always Clean Them
Cleaning your false eyelashes is essential when you take them off. Once you've had your lashes on, they've been exposed to external stressors, your eye makeup, and the natural oils in your skin. 
To clean them, follow the manufacturer's instructions. To clean Gossamer lashes, you can use Pre-Cleanse and a Charcoal Cotton Swab to gently remove buildup from your Gossamers or excess Bond if it has accumulated on the Spine™ Base. 
Don't Get Them Wet
Very few lash extensions are actually waterproof. Even salon lashes won't last as long if you get them fully drenched. Water will gradually break the bond of your adhesive and cause your lashes to come off sooner. 
Don't Pull Them Off
While it might be tempting (especially after a long night) to pull your lashes off your lash line, this is the easiest way to break and damage them and your natural lashes. Instead, use a gentle, dual-phase, oil-based makeup remover to slide them off your natural lashes. 
To remove Lashify Gossamer lashes, you can use a dual-phase oil-based makeup remover or Melt-Away. We also offer another way to remove our Gossamer lashes, with Lash Release. Lash Release is easy, portable, and helps slide your Gossamer lashes right off your natural lashes without harming them.
Store Them Properly
No, your nightstand drawer is probably not the best option for storing your false eyelashes. They're delicate, easily go missing when they aren't put back into place, and can significantly lose their shape if you don't care for them properly. 
We've got five reasons why you need to store them in a hard, splash-proof case.
Five Reasons To Store Your Lashes In a Case
You know you can do better than a sandwich bag, but you'd rather spend your money on a new set of lashes instead of a case to put them in. We get it, and that's why we make our lash accessories (like cases) accessible to more budgets.
Your lashes really do need to be stored properly, and here's why.
1. They Can Lose Their Shape
You know how delicate your lashes are, but they are designed to maintain a certain shape that will fit against your lids and lashes. The curvature of your false eyelashes gives them part of their iconic style, and if your lashes lose that shape, you could end up with a set of lashes that points directly outward or curls too much. 
If they get crushed, they could be bent and unusable. Keeping your lashes in a secure case on their original packaging is the best way to ensure they don't lose their shape. Gossamer lashes come on a cartridge that naturally keeps them secure and shaped perfectly. 
2. They Can Go MIA
There's nothing worse than getting ready, applying your falsies to one eye, and then realizing you are missing the other one. Of course, this will only happen on a day when you are already running late. 
Keeping your lashes in one place ensures they are always where they are supposed to be, and you never need to go on the hunt for a rogue lash. 
3. Soft Cases Aren't Safe
Sure, you've got about 30 monthly makeup subscription bags lying around, but those aren't safe for your lashes for the same reasons sandwich bags aren't. Those bags can be crushed, sat on, squished, or damaged, which will naturally damage the lashes inside. 
Not to mention, the lashes can just tangle against one another, attach to leftover glue, and end up coming apart. 
4. You'll Save Money
When you invest in a hard, protective case for your lashes, you'll save money because you'll get more wear out of your lashes and ensure they last as long as they are supposed to. Keeping them safe and secure is budget-savvy. 
It also ensures you can spend your money on a new set of lashes and not a replacement set of the same style you ruined. 
5. They'll Be Protected From All the Things
Whether you live in a household where tiny hands grab things from your countertop or if you're known for making a mess while you're getting ready, keeping your false lashes in a case ensures that they are in a splash-proof, grab-proof den of safety. 
Keeping your lashes safe is important, and Lashify has the solution for keeping your Gossamer lashes as safe as possible. 
Lashify Gossamer Cases
If you already own a Control Kit™, you've got a head start on keeping your Gossamer lashes safe. Once you have the Control Kit, you've got everything you need to get started with the Lashify DIY Lash Extension™ System.
Each customizable Control Kit contains:
Two pairs of Gossamer lashes. Each set comes on its own protective cartridge and has a nice little home inside a protective case, so you never lose or damage them.
Fuse Control® Wand in Classic or Petit Curve. The only way to apply Gossamer lashes safely, easily, and without stress. Designed to work with the curve of your hand and eyelid for easy application. 
Glass Finishing Coat. You want your lashes to last, and Glass helps you get there. Adding a coat of Glass helps keep your lashes sealed and safe while they're on your lids. 
Whisper Light Bond™. We'll admit it. Our Bonds aren't like lash glue. In fact, they're more like lash serums. Formulated with nourishing biotin and Lavendula, they're actually good for your lashes and contain zero formaldehyde or cyanoacrylates. Our Bonds never fully cure, allowing them to flex and bend with your natural lashes to avoid breakage. 
Wandom® Pair. Play it safe by covering your Fuse Control Wand with a pair of Wandoms. These little covers keep your Wand from sticking to your Gossamer lashes and make your application mess-free. 
Samples of Pre-Cleanse and Melt-Away. Our favorite tools for keeping your lashes clean and getting them off easily, these samples will give you the ability to try before you buy.
Everything comes packaged in a hard, protective case with a large mirror that helps with application. It's the perfect start-up for your Gossamer wardrobe, but once you build it, you'll need more space to store your Gossamer lashes. 
We recommend the Double "G Unit" Gossamer Storage Case. This case is small, understated, incredibly sturdy, and can fit up to 16 pairs of Gossamer lashes on their cartridges. 
No Cartridge? No problem.
We all know that keeping those original cartridges is a definite maybe. No one is perfect, and sometimes you just lose track of items you meant to keep track of. We've got the perfect solution for those loose Gossamer lashes floating around on your vanity. 
The Gossamer Storage Case is hard, protective, and has individual sections that make it easy for you to store the occasional loose Gossamer lash as you find them. 
Stay Secure
Your lashes should be easy for you to use and easy for you to take care of. When you use the incredibly durable cases from Lashify, you never have to worry that your Gossamer lashes won't last as long as they should. 
Sources:
Should You Be Wearing Mascara With Your False Lashes?|Glam.com
Is Eyelash Glue Toxic? | Poison Control
The Hidden Dangers of Eyelash Extensions|Vogue