What's the Best Glue for Perfect Eyelash Extensions?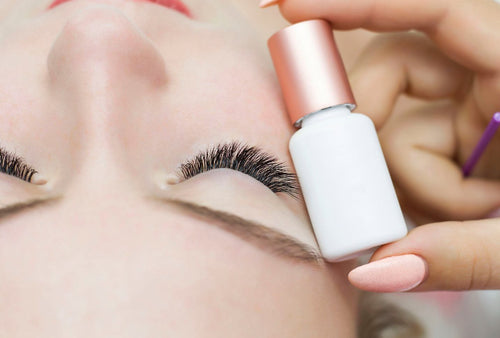 Long-lasting eyelash extensions are what you want, but not at the expense of losing your natural lashes. That's why you're here; to learn how to get lashes that last but without harsh ingredients in lash glue that might just make you look like a mole rat.
First off, you should know that Lashify® Bonds never, ever (and we mean never) contain any:
Formaldehyde releasing ingredients 
Cyanoacrylates
Latex
Harmful chemicals that could hurt your eyes, damage your skin or cause damage to your natural lashes.
Our Bonds are created differently, and while they still grip your Gossamer® lashes tightly, they work more like a lash serum to help support and nourish your natural lashes. We believe a product that enhances your natural beauty should never work against it. 
Before we talk about Lashify Bonds, we'll cover what's available in terms of eyelash extension adhesives, including what's inside them and how they work, and how long they'll keep your lash extensions firmly in place. 
Lash Glue 101
Eyelash extension glue is a very basic product with very basic ingredients. Most formulas contain about 90 to 95% cyanoacrylates, essentially the same bonding ingredient you find in superglue. 
The other five to 10% of the product is made up of thickeners and emulsifiers, which help keep the product mixed, and colorants which give it isn't color (ovbi), and possibly some latex. At a salon, the lash adhesive is much the same, with cyanoacrylates being at the top of the ingredient list. 
Not sure what cyanoacrylates are? We've got you covered.
What Is a Cyanoacrylate?
Most clear adhesives are water-based (think of craft glue or school glue). These glues allow for a hold, but water can break the bond easily. 
Cyanoacrylates are glues that are resin-based. These are acrylic glues that turn into a type of plastic once they have fully cured. 
Bottom line: Cyanoacrylates are liquid in the bottle but turn into a form of plastic when exposed to oxygen and fully cured. This means they harden completely, forming an extra strong bond. That also means that whatever they are glued to becomes hardened and somewhat brittle.
If the lash extension glue you're using says it is water-resistant, it might contain latex.
Why Latex Is Found In Some Lash Glues
Latex is often added to lash glue to help it become more resistant to oil and water. Some brands may call their formulas waterproof if they add this ingredient. 
Latex can cause severe allergic reactions, so if you are allergic to latex, you'll always want to double-check with your lash tech or read the label of your lash extension adhesive to ensure it says it is latex-free. 
How Does Formaldehyde Get Into Lash Glue?
Lash glue doesn't exactly contain formaldehyde on the ingredient label. Instead, it develops inside the product because ingredients release it as they decompose. Ironically, these ingredients are usually preservatives meant to increase the shelf life of products. 
What Else Should I Know About Lash Glue?
Ingredients are important, and what you use on your natural eyelashes and on the delicate skin near your lash line can harm or help your natural lashes and even your eyes. 
Eye Sensitivity
It's not uncommon for people to have sensitivity to products used near their eyes, and it's not just topical sensitivity. The fumes from the glue itself may irritate sensitive eyes. If you have sensitive eyes or sensitive skin, you can opt to use sensitive eyelash extension glue. 
These types of adhesives are typically hypoallergenic, formaldehyde-free, and produce low fumes. Unfortunately, they haven't always been the best lash glues for giving you a strong hold. 
Natural Eyelash Damage
It's no secret that eyelash extensions can damage your natural lashes if applied incorrectly or with professional eyelash extension glue or self-application glue that isn't good for your eyelashes or skin. Because most glues contain cyanoacrylates, they fully cure and harden, which can cause your natural lashes to become brittle and break.
Natural lashes grow on a cycle, so if one breaks too soon, a new eyelash may not be readily available to replace it, which means you'll end up with an empty space where that eyelash used to live. 
The takeaway: There are real dangers with the glues you can use at home and those used by professional lash artists. Lashify saw the need for a high-quality, quick-drying glue that worked (even for thicker-volume lashes) without including harsh ingredients. So, we made them. 
Lashify Bonds
We wanted to combine the features we loved about lash serums with the features we loved about the best eyelash glues we'd used. But we wanted to combine them in a way that didn't contain ingredients that could harm the skin, eyes, or lashes. That's how Bonds were born. 
Our Bonds contain lash-loving ingredients, like biotin and Lavandula. They also feature Micro Flex™ technology, which allows them to give your Gossamer® lashes incredible hold without fully curing. That means they can bend and flex with your natural lashes to avoid breakage. 
We offer two different Bonds, both of which have a fast drying time (remember, they won't fully dry or harden) and are easy to apply. They're also cruelty-free and never contain any animal-based ingredients. 
Whisper Light Bond™
Our best and most popular Bond, Whisper Light is available with a dual-sided wand or with a single wand. The dual-sided wand has a Micro Mascara applicator for easily applying a light coat through your lashes. The other end has a precision tip for applying Bond to individual lashes or touch-ups.
This Bond is perfect for beginners or for occasional application. Whisper Light is available in clear or black adhesive. 
Bondage®
Once you've mastered your application technique with your Gossamer lashes, you can level up to Bondage, our extra-strength bond that features Charcoflex®. This Bond offers a longer lash retention period (up to seven days). If you're going for the full 10-day wear, you can get there by combining Bondage with Glass Finishing Coat or Night Bond® Sealer. 
Removal
Even though our Bonds are super strong, they're easy to remove. A dual-phase, oil-based makeup remover will help break the Bond from the lashes and keep your Gossamer lashes and natural lashes safe. 
You can also dip a clean mascara spoolie in Melt Away and run it through your lashes to gently remove your extensions. 
If you are new to Lashify Bonds or our Gossamer lashes, the best place to start is with the Control Kit™.
Get Control of Your Lash Game
We made it easy for you to get the lashes you love without spending all your time and money at the salon. The Lashify system starts with the Control Kit, your gateway to great lashes. 
Gossamer lashes. You get the power to choose two sets from all of our styles. 
Fuse Control™ Wand. The only way to apply your Gossamer lashes safely and easily. Try the Petit Curve Wand for smaller eyes and hands. 
Finishing Coat. Your Control Kit comes with a full size of Glass, so you can seal in your Gossamer lashes. 
Whisper Light Bond. Our Control Kits come with Whisper Light, our most popular Bond that is super easy to use. 
Wandom® pair. Keep it safe while you apply your lashes and avoid sticky situation. Wandoms cover the ends of your Fuse Control Wand to ensure your Gossamer lashes don't stick during application. 
Samples. Who doesn't love samples? We include a sample of Melt Away in our Control Kit and a sample of Pre Cleanse, our favorite product for cleansing your eyelashes before application, spot-cleaning your Gossamer lashes, and even cleansing your entire face. 
It all comes in a handy, protective case with a mirrored side that you can even use for application. Each pair of Gossamer lashes comes on a cartridge, and we recommend keeping them fastened to the cartridge when you aren't wearing them to ensure their shelf life. 
The Best Eyelash Extension Glue…It's Bond, Baby!
Eyelash glue can be harsh on your eyelashes, eyes, and skin. Skip the ingredients in harsh professional use and at-home glue and try Lashify Bonds instead. Bonds are made to give you the hold you want without the harsh (sometimes toxic) chemicals that are often found in other glues. 
You can have your lash extensions and take care of your natural lashes, too. Lashify Bonds help support your natural lash health while safely keeping your Gossamer lashes attached as long as you want to wear them. 
Sources:
Is Eyelash Glue Toxic? | Poison Control
Eyelash Extension Facts and Safety - American Academy of Ophthalmology
Biotin - Health Professional Fact Sheet|NIH.gov
The Risks of Eyelash Glue for Extensions - Missouri Poison Center
Formaldehyde And Formaldehyde-Releasing Preservatives - Safe Cosmetics