Our Guide to Achieving the Natural Lash Extensions Look at Home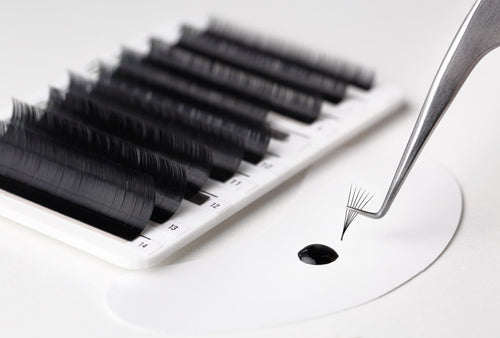 Subtlety is the name of the game when it comes to getting natural-looking DIY lash extensions. Achieving natural-looking lash extensions means slightly modifying your lashes without going so bold they look fake to help accentuate your eyes. Natural-looking extensions are a perfect alternative to daily mascara and lash curlers. 
The natural look is perfect for everyone, whether you're starting with short or long lashes. Everyone has a natural beauty to enhance. If you want to add just a touch of enhancement to your own lashes, the natural look will be great for you, but how do you get the look? 
We're here to help!
The Basics
Let's start with the basics of what you need to know to get the most natural DIY lash extensions possible: 
Lash Material 
The first thing to consider when choosing the most natural lash extension for you is the material. Experts recommend silk or mink extensions for a natural look. We prefer silk, as our Gossamers are made of premium Korean PBT silk. 
Silk is best for mimicking the look and feel of your own lashes, so they blend in the best. Silk is also more flexible and lightweight than other types of extensions. 
Best of all, silk is more durable than mink and other fibers, so the longevity of your lashes is well supported. That's probably why silk extensions are so popular! 
Lash Quality
'Premium' matters. The higher the quality of the materials that make up the lash clusters, the more natural your look will appear. Cheap lashes will look cheap; it's that simple. Premium silk will look more realistic than cheap faux silk. That's why we only use Premium Korean PBT silk in our Gossamers. 
Lash Length
A "natural length" will depend entirely on the length of your real lashes. Select a fan only 2mm longer than your real lashes to select a natural extension length. This prevents an obvious disparity in volume from the base of your lashes to the tip; in other words, it helps the extensions blend in. 
When selecting the fans in your map, keep your natural lash length variance in mind: in most people, your natural lashes are shorter in the inner corner and longer near the outer corner. Therefore, design your lash map to mimic this pattern. Don't exaggerate it, though; exaggerating this pattern will get you a cat-eye style, not a natural one. 
Lash Curl
Don't choose a curl that is dramatically stronger or looser than your natural curl. If your lashes are straight, a tight curl may look unnatural, and you may have difficulty blending it. The most natural curl will come from a classic lash: Amplify, Bold, or Curl Gossamers. 
Lash Thickness
Choosing a lash with thinner fibers is always a safe choice for natural looks. Aim for lash fibers that are between .06 mm thick and .08 mm thick. 
This range should keep the extensions similar to your natural lashes and stop the extensions from looking heavy or overly dense on your eyes.
Lash Color
This isn't usually the first thing people think of when they start hunting for natural lashes since many of us are used to black being our only option. Yet, one of the fastest ways to achieve a natural lash look is to utilize extensions that match the color of your natural lashes. 
Lashes can be black, ginger, blonde, or shades of brown. To get a natural-looking enhancement, choose a shade that is most similar, or only slightly darker, than your natural color. A darker extension will create a more dramatic look. 
To get a color match, you need extensions that come in a variety of shades, which brings us to…
Meet the Intimates Collection
Lashify's Intimates Collection! The Gossamers in this collection were engineered to blend perfectly into your natural lashes, thanks in part to their variety of natural colors. 
These hues all come in Amplify and Curl styles. Their lengths range from 8mm to 14mm, and they all have a thickness of .07mm. Even though they look so real, all our Gossamers are vegan and cruelty-free! 
Ash
The Ash Gossamers are made for the strawberry blonde. They mix brown with a tinge of purply-red. You love the unique tone variations in your natural hair color, and we think you'll love how this expertly blended mix of shades compliments your natural coloring.
Minx
Mink lashes have a unique look, but we believe that fur should stay on animals, not our eyelashes. So, with the Minx Gossamers, we've mimicked the glamorous look of natural mink with our vegan fibers. It's a soft, mousey brown perfect for dirty blondes and light brown lashes. PETA would be pleased. 
Ginger
Redheads have a pretty distinct and unmistakable hair color. For a lucky few, the lashes match the fiery tresses. Naturally, a black lash would stick out like a sore thumb in ginger lashes, but not to worry, Ginger Gossamers are the solution. 
Truffle
Truffle is actually one of our most popular colors! Like the tasty holiday truffles you know and love, Truffle Gossamers blend mouth-watering hues of intense dark chocolate and caramel browns. 
Truffles are a treat for any brunette. Since Truffle is such a popular color, they're not just available in Amplify and Curl; you can also find it in our Volume collection! You can get Fluffy and Fluffy FX Gossamers in Truffle too! 
Other Available Colors
Over in our other collections, it's not just black! We have other natural colors to sample.
Check out Chocolate Gossamers in the Volume Collection. If you have dark eyes, a dark complexion, and/or dark hair, Chocolate Gossamers are perfect for a subtle, natural choice for you. 
Our warm and sweet Chocolate highlights the little color variances in your brown eyes. Chocolate also comes in a wide range of styles: Stardust, Starburst, Plushy, Plushy Tame, Fluffy, and Fluffy FX Gossamers are all available in Chocolate. 
Similar to chocolate, but a bit brighter, in our Prismatics collection, we have Dark Brown. Dark Brown Gossamers are available in Amplify and Curl styles just like the intimate collection. These dark brown lashes mix very nicely into lash maps that utilize different colors. These Gossamers are a true neutral.
Lash Mapping for Natural Lash Extension Looks
After you've picked your true-to-you-hue in the lengths you need, it's time to start designing your lash map! 
Here are some jumping-off points to help you personalize your lash map. If you're a DIY lash extension beginner, just copy and paste one of the maps below onto your eyes. 
Read lash maps from inner corner to outer corner: the leftmost Gossamer goes on the inner corners, rightmost goes on the outer corner. The number describes the length of the lash, and the letter describes the style (C for Curl, A for Amplify, etc.)
For Almond Eyes:
C12 C12 C14 C14 C14 C12
For Round Eyes:
C10 C12 C12 C12 C14 C10
For Upturned Eyes: 
C8 C10 C12 C14 C 14 C10
For Downturned Eyes:
A8 A10 A12 A14 A14 A12
What About Mapping a Natural Look With a Volume Lash? 
To get a natural lash look with our Truffle Fluffy Gossamers, for example, try a lash map like this: 
TF10 TF10 TF10 TF12 TF12 TF10
Follow the basic pattern of a cat eye, but at the very outer corner, shorten instead of lengthen. No matter which style of lash you're working with, stay within 2 mm in length of your longest natural lash for maximum realism.
It Comes Naturally
We totally believe anyone can become their own lash stylist. Anyone can achieve a natural lash extension look at home. With a little practice and some help from our video tutorials, applying DIY lash extensions will feel like second nature. 
A natural look is perfect for everyday wear, which is awesome since Gossamers are built for everyday wear! Did you know Gossamers can last up to 10 days on a single application with proper hygiene? 
Gossamers are also so durable that they're reusable for months. You can rock your lash extensions every day without seeing a decline in appearance quality or seeing a professional lash technician. 
Natural look not for you? No worries! There's a lash look for everyone. Maybe you're more of a bold babe or a colorful chicky! Take a look around the Volume Collection and the Prismatics Collection to see what catches your eye. Russian Volume? A dramatic cat eye? Maybe the bright, party-ready hues of red, Royal Blue, or violet? 
Perhaps the super popular Starburst lashes are the perfect balance of natural and otherworldly for you? We all love a subtle, natural look, but don't be afraid to experiment with a bolder look– you never know what you'll love!
Sources: 
Everything You Need to Know to Get the Most Natural-Looking Lash Extensions | Allure
Natural Eyelash Extensions: The Ultimate Beginner's Guide | We Heart This